Call Of Duty: Modern Warfare 3 Hardened Edition Confirmed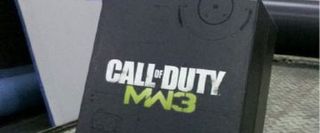 Both Call of Duty: Modern Warfare 2 and Call Of Duty: Black Ops were available in Hardened Editions, so why not Modern Warfare 3? This weekend Infinity Ward's Robert Bowling revealed that they're preparing a collector's edition for MW3.
Bowling snapped a picture of the Hardened Edition's box, fresh off the factory line. It's an ominous black box with the MW3 logo on the front. The box is thicker than a standard game, so that IW can fit all sorts of extras inside.
The COD: Black Ops Hardened Edition came with a medal, an Avatar outfit, and bonus co-op maps. The Hardened MW2 contained an art book as well as a download voucher for the original Call of Duty. Both cost $79.99 on release. Expect a similar price and amount of extras for the Hardened Edition of MW3
Bowling said that details on this edition's contents will be revealed at Call of Duty XP. XP is a two-day convention that will take place in September. During the event, Activision also plans to show off the game's multiplayer for the first time. Tickets went on sale last week.
Black Ops and MW2 each had two collector's editions. The second, the Prestige Edition, was quite a bit crazier than the Hardened Edition. For both games the Prestige bundle cost $149.99 and came with a high-tech gizmo (an RC car with a video camera for Black Ops, night vision goggles for MW2). I'd imagine they're preparing a similar package for MW3. Wonder what ridiculous toy they'll include with it.
Staff Writer at CinemaBlend.
Your Daily Blend of Entertainment News
Thank you for signing up to CinemaBlend. You will receive a verification email shortly.
There was a problem. Please refresh the page and try again.