Captain Blood Debut Trailer For Xbox 360 And PC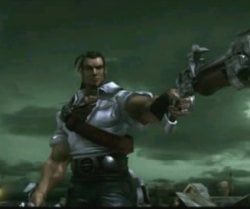 After a four year hiatus, 1C Company has announced that Captain Blood is finally coming to the Xbox 360 and PC. The game was originally announced back in 2005 as a Xbox 360/PC port with Playlogic Entertainment at the helm. Well, fast-forward to 2009 and a new announcement trailer is finally up for public viewing and it looks pretty darn good.
The game features the same arcade-style gameplay from the likes of Pirates of the Caribbean but with a little more depth and something that goes by the name of "fun". Players can swashbuckle and loot, as well as engage in dynamic ship-to-ship pirate battles.
Captain Blood sports a unique art-style that appears to be a fusion between comic-book character models with lighting and coloring that look as if they come out of an oil painting. Not a bad combination. You can check out the new debut trailer for the game below and remember to stay tuned in with Blend Games for further news, updates, info and media regarding all things gaming.
Staff Writer at CinemaBlend.