Crackdown 2 Deluge Pack DLC Released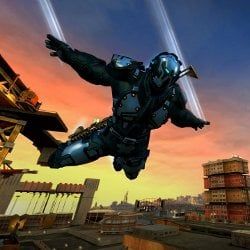 Get back to work, Agent. Today Crackdown 2 received the "Deluge Pack" add-on, which fleshes out the game's multiplayer component with new modes.
In the titular Deluge mode, four players must fight off waves of enemies together. A sixteen-player Capture the Orb mode is also included in the DLC. New Achievements and Avatar Awards round out the package, which will cost 560 MS Points.
You'll actually be able to try this DLC before you buy it. A trial version of the "Deluge Pack" lets you play the full Capture the Orb mode. You can also play a single-player incarnation of Deluge mode.
Also debuting on Xbox Live today is a trailer for Crackdown 2: Project Sunburst. Sunburst is a tower defense game that will be available for Windows Phone 7 this month. Playing Sunburst will earn you rewards for Deluge mode and vice versa.
Staff Writer at CinemaBlend.
Your Daily Blend of Entertainment News
Thank you for signing up to CinemaBlend. You will receive a verification email shortly.
There was a problem. Please refresh the page and try again.