Crytek Backtracks On Blocking Used Games In Next-Gen Comments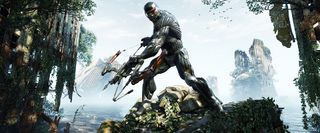 Crytek has backtracked on their recent controversial comments about how blocking used games on the next-generation of consoles would be "awesome."
The developer's director of creative development, Rasmus Hojengaard, recently caused quite a stir regarding his comments made on supporting a next-gen anti-used games system. "From a business perspective that would be absolutely awesome. It's weird that [second-hand] is still allowed because it doesn't work like that in any other software industries, so it would be great if they could somehow fix that issue as well," he said at the time.
Hojengaard has now told CVG that apparently his comments were not intended to be serious.
"My comment made in the interview released on the 24th of April, touching upon 'blocking sales of used games', was not intended to be taken seriously nor representative of the opinion of Crytek," he admitted.
The developer's comments on used-games in next-gen consoles isn't the only recent case which has caused media coverage and fan backlash. An official Electronic Arts interview recently saw Dead Space's story writer calling the writing within Gears of War the worst ever. The writer, Chuck Beaver, also had to backtrack on his comments following the removal of the interview and state how they were somehow "taken out of context".
Crysis 3, Crytek's next project, is due for a release during spring 2013 on the PS3, Xbox 360 and PC.