DC Universe Online: Lightning Strikes DLC Released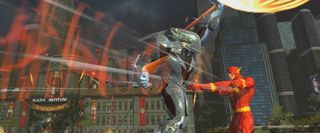 Sony Online Entertainment has released the second downloadable content pack for DC Universe Online today. The "Lightning Strikes" DLC, available for the PS3 and PC, features The Flash and gives players a new set of electricity-themed powers to utilize.
The DLC introduces a new Central City map filled with group and solo adventures. Players will be able to interact with several of The Flash's friends and enemies. They'll also be able to travel back in time to the moment when Barry Allen first became The Flash.
New adventures are obviously accompanied by new loot. Aspiring heroes can collect a Black Lightning-inspired set. Villainous players, meanwhile, can pick up a set based on Zoom's costume.
"Lightning Strikes" can be downloaded for free by Legendary members of DCUO. Free and Premium players will have to pay $9.99 for the new content.
Staff Writer at CinemaBlend.
Your Daily Blend of Entertainment News
Thank you for signing up to CinemaBlend. You will receive a verification email shortly.
There was a problem. Please refresh the page and try again.