Dark Souls Collector's Edition Won't Make You Throw Your Controller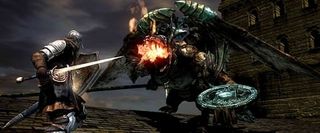 Dark Souls, the spiritual successor to uber-hard action RPG Demon's Souls, is sure to frustrate the hell out of many Xbox 360 and PS3 fans. The extras in the pre-order exclusive Collector's Edition will hopefully ease the pain, though.
The Collector's Edition cost $59.99, the same as the standard edition. It includes a limited edition art book, a mini strategy guide, behind-the-scenes videos, and a digital copy of the soundtrack. These extras and the game will be packaged together in a custom metal case. Hopefully it's durable enough to withstand your post-death tantrums.
In Dark Souls, players travel to the northern realms to find the Eternal Flame of Life in hopes it will cure their curse. They'll have to battle their way through dungeons filled with monsters and deadly traps. As with Demon's Souls, players in Dark Souls will be able to help or undermine other players via the optional online component.
Demon's Souls was known for its high difficulty. Instant death lurked around every corner and dying meant that you had to redo the level, including all the enemies. Dark director Hidetaka Miyazaki previously stated that they have "no intention to decrease the difficulty at all." However, they will make some tweaks to the formula that will hopefully make the game more user-friendly. For example, they'll allow players to choose their own respawn points rather than limiting them to one or two checkpoints per level.
Dark Souls will be released in North America and Europe this October. It's being developed by Demon's Souls creators From Software.
Staff Writer at CinemaBlend.
Your Daily Blend of Entertainment News
Thank you for signing up to CinemaBlend. You will receive a verification email shortly.
There was a problem. Please refresh the page and try again.