Darksiders 2 Screenshots Feature Inventory Management, Skills, Questing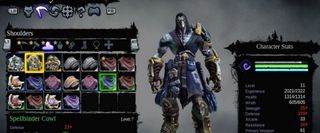 Are you curious about some of the more meta-features of Darksiders 2? Such inventory micromanagement? Perhaps you're curious what the skill tree looks like? Maybe you're keen on seeing some questing dialogue? Well, if you answered yes to any of the above then you'll enjoy the new screenshots from Vigil Games' upcoming hack-and-slash action title.
Darksiders 2 follows the exploits of Death as he takes an alternate route to discovering what happens with a preemptive apocalypse supposedly caused by his fellow brother, War. Death takes a long journey in a round about way to not only discover how and why things went down in the way that they did in the first game, but also to quell some bad blood with some demons and angels along the way, wreaking havoc like...death.
The wait for the action-adventure title won't be long, as the game is set for release next week, but just ahead of the launch some brand new screenshots have surfaced featuring all sorts of in-game goodness. We get to see a lot of the details usually left on the cutting room floor of marketing assets. Instead of the typical "cool" scenes captured in most screenshots, Italian blog appropriately called Games Blog has up a huge buttload of screenshots that range from simple things like dialogue cues to slightly more interesting screenshots such as the inventory and weapon management screens.
You can check out the new shots below or look for the game to land on a retail store shelf near you beginning August 14th for the Xbox 360, PS3 and PC. Need more info on the game? Feel free to pay a visit to the Official Website.
Image 1 of 44
Your Daily Blend of Entertainment News