DayZ Might Come To Xbox 360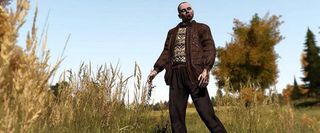 DayZ, the popular zombie mod for Arma 2, may not stay exclusive to the PC. Bohemia Interactive says it "would be stupid" not to explore an Xbox 360 version.
"Obviously DayZ, you've seen the success of Minecraft on Xbox LIVE Arcade, and we'd probably be stupid not to try to do something similar," producer Jan Kunt told Videogamer.
Minecraft is a hugely successful open-world building game first released on PC. It was brought to the Xbox 360 this May. Since then, it has sold over 4 million copies.
Kunt adds that Bohemia has always had an interest in console development He says that consoles are a larger, more mainstream market. Furthermore, piracy is lower.
In DayZ, players struggle to survive in the zombie-infested country of Chernarus. Players begin the game on a beach with few supplies. They must find food and water to keep themselves alive. Weapons and ammo are in limited supply but are necessary for survival, as both zombies and other players remain a constant threat.
Bohemia is planning to release DayZ as a standalone game on the PC this fall. They will be following the Minecraft business model with this venture. Players will be able to get the alpha version of the game at a discounted rate. The developers will then release a steady stream of small patches based on player feedback.
The biggest shortcoming for an Xbox 360 version of DayZ would probably be the speed of updates. Microsoft reviews new patches so 360 games can't be patched as quickly as PC counterparts. As a result, developers generally make larger, less frequent updates on the console. Slower patching might be inconvenient to players but Minecraft's sales on the 360 show that many gamers are willing to tolerate it.
Your Daily Blend of Entertainment News
Staff Writer at CinemaBlend.