Dead Island Serves Up Eight Gruesome Screenshots For Xbox 360, PS3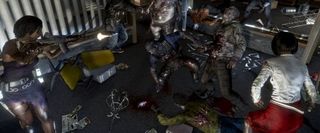 I hope you haven't forgotten about the open-world, RPG-style, first-person action zombie title, Dead Island…it's the game where the debut cinematic trailer went viral within a matter of hours and movie deals came pouring in a few minutes after the trailer went viral. Well, if you remember Dead Island now you might be interested to know that some brand new assets have become available for your viewing pleasure.
Deep Silver released eight brand spanking new screenshots featuring some gruesomely grotesque zombie gore, including arms being severed, heads being curb-stomped and survivors wearing nightclub dresses opening up a can of head-splat on a horde of zombies using an M4 assault rifle. Sounds quaint, eh?
You can check out the brand new screens below and prep for the game's release this September for the Xbox 360, PS3 and PC. Need more info on Dead Island? Be sure to pay a visit to the Official Website.
Image 1 of 8