Dead To Rights: Retribution Gameplay Overview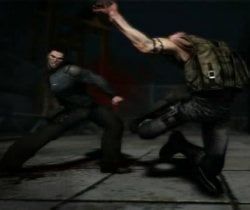 Namco, in addition to the Tekken 6 gameplay montage, has also released some new assets today for the re-envisioned action game, Dead to Rights: Retribution. The developer documentary is pretty cool and gives a brief overview for some of the game's features.
Now this game takes the concept of "next-generation" seriously by actually evolving the series of Dead to Rights into a more gritty, Max Payne-ish sort of franchise. Jack Slate and his canine companion return with better, darker visuals and more variety in gameplay functions than ever before.
Volatile Games has implemented some seamless cross-genre gameplay that includes beat-e'm-up fighting and transitional over-the-shoulder shooting for a truly unique experience. What's more is that the fighting has been greatly fine-tuned to allow for an even smoother experience than the past two games. It's all on display in the following video.
Dead to Rights: Retribution is due out for the Xbox 360 and PlayStation 3. You can learn more about the game by visiting the Official Website. For more gaming news, info and updates, be sure to stay tuned in with Blend Games.
Your Daily Blend of Entertainment News
Staff Writer at CinemaBlend.