Dead Rising 3 Capped At 30fps On PC, Modders Can Access 60fps At Their Own Risk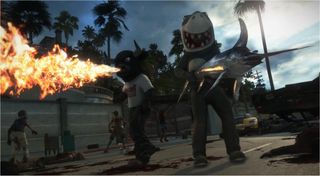 Capcom continues to cause a lot of strife from within the gaming community with their treatment of their fanbase (or what's left of it). The upcoming release of Dead Rising 3 on PC will be hard-capped at 30 frames per second due to the game's simulation being tied to engine code that locks certain features to the frame-rate.
On Capcom's Twitch.tv live-stream from this year's E3, Dead Rising 3 producer Jon Airhart released some disheartening news that the game would be hard-locked at 30fps on PC due to the way the engine was designed. Neogaf transcribed the quotes from Airhart, who stated that...
It doesn't take a wild imagination to guess what the average response was from potentially eager PC gamers on NeoGaf who found out that the game would be running at the same limitated frame-rate as the Xbox One version (just minus the massive frame drops).
Quite naturally, there was a call to arms for Durante, the legendary programmer who fixed the original Dark Souls PC port that Bandai Namco released back in 2012. Unfortunately, it's not that simple.
DSO Gaming spotted a post by one of the programmers on Dead Rising 3 later on in the NeoGaf thread, who goes by the handle of quantumnerd, putting a damper on the possibility of a quick-fix from the modding community by saying...
Need For Speed: Rivals had a very similar problem, where the game's AI logic, physics and car dynamics were tied to the frame-rate ticks. It seems like an insane design, but at the same time it really hammers home the point to "hard lock" a game at a specific frame-rate for the home consoles (or at least, I imagine that's the goal).
In the case of NFS: Rivals the game would break when the engine simulation was stuck at 30fps but gamers upped the game's runtime to 60fps. On the upside, tweakers eventually figured out how to get both the game-time and the simulation time to run at 60fps.
I wouldn't be shocked if we see something similar happen with Dead Rising 3. However, there's no way to tell right now until the game gets out there in the wild and the PC community has time to mess around with uncapping the frame-rate.
You can look for the former Xbox One exclusive, Dead Rising 3, to launch on PC this summer.
Your Daily Blend of Entertainment News
Staff Writer at CinemaBlend.