Demon's Souls Holiday Surprise On The Way?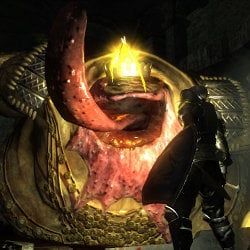 It could be a very special holiday season for fans of the PS3 RPG Demon's Souls. Sony teased some sort of announcement earlier today.
"Heroes of Boletaria, take heart: rumor has it the Old One's power will falter in the days following the winter solstice #demonssouls," reads a new tweet from the official Sony PlayStation Twitter.
Though the game's been pretty well-received, one point of contention has been the difficulty level. Maybe they'll add some sort of optional feature(s) to cater to the weak-kneed crowd? The winter solstice takes place on December 21st so we should know by then.
Your Daily Blend of Entertainment News
Staff Writer at CinemaBlend.