Destiny DLC Plans For 2015 Potentially Leaked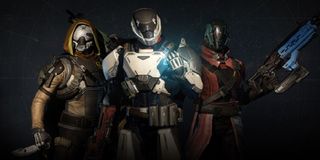 It looks like 2015 could be a busy year for Destiny players, if a recent leaked photo of a content planning meeting turns out to be true. Assuming that's the case, the upcoming Dark Below DLC pack could be followed by a massive update in September, followed by another pair of smaller DLC packs.
Again, everything here should be taken with a grain of salt but, considering Destiny's post-launch release schedule so far and Bungie's promises to make the game bigger and bigger, everything listed here seems to be pretty legit.
Here's a look at the image that's gotten the Destiny community launching into speculation mode, originally posted on the @FWCReddit Twitter page.
It's a tricky read but, thankfully, loads of commenters have already done the leg work for us, translating that single blurry image into a list of potential DLC plans stretching into late 2015. I still have to wonder why any employee would risk being fired just to leak this image to the world, unless it's one of those intentional "leaks" meant to build buzz and judge feedback.
Anyway, so far players are smack-dab in the midst of the first DLC pack, The Dark Below. Next up will be the already known pack, House of Wolves, which appears to be similar in content to Dark. Due out March 10, we can apparently expect another trio of story missions leading into a new raid, one new strike and four new PvP maps.
That'll apparently need to tide you over until September, when the big expansion drops. It's reportedly called Comet: Plague of Darkness, and it will feature a new explorable location called the Hive Ship. Also on offer are new sub-classes for each of your hunters and a pair of new weapon types. We heard rumors a while back about new sub-classes so, again, this all seems in line with what might be a legitimate leak. Also in this big expansion are 12 new story missions, four strikes, a new raid and another six PvP maps. Yeah, that's a pretty meaty update.
That will reportedly be followed by another pair of smaller DLC packs, similar to those we already known about and themed around the two remaining enemy races. The Vex pack is illegible, but some are speculating it says "Vex Void." It's rumored to have another three story missions, two strikes, a raid and an unknown number of new PvP maps. No details are listed for the final expansion, Forge of Gods, which should be themed after the hulking Kabal.
Since the original season pass only listed two DLCs, chances are pretty good that these new pieces of content will come at an additional price. That seems pretty fair to me, considering how much they'll be adding to the game. Again, this is all rumors for the time but, assuming it's true, what are your thoughts on the 2015 calendar for Destiny?
Staff Writer for CinemaBlend.
Your Daily Blend of Entertainment News
Thank you for signing up to CinemaBlend. You will receive a verification email shortly.
There was a problem. Please refresh the page and try again.