Destiny House Of Wolves' Leaked Screenshots Reveal New Reef Hub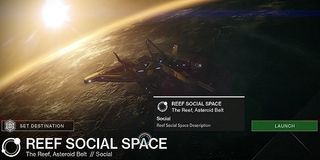 Reddit once again proves to be a source of all kinds of interesting game news, as one Destiny player has provided a collection of interesting screenshots that supposedly show off upcoming content for the game, including a new social space located within the barren space known as The Reef.
As we've known since shortly after Destiny originally launched last year, sometimes the folks at Bungie have a hard time keeping kids off their lawn, as glimpses of upcoming content will occasionally pop up within the game world. When that happens, people are usually quick to grab a screenshot or recording and share their findings with the rest of the world.
Due to Destiny's unique online nature, the team at Bungie are often working on bits and pieces that are already live (though unfinished), but kept behind some sort of virtual lock and key. That way they can see how things are coming along within the game without actually letting the public in on the behind the scenes details. Like a 16-year-old with a fake ID, though, folks will frequently find a way to get in, finding place holders for upcoming missions or even breaking through a piece of the geometry to find regions and enemies that aren't supposed to be open to the public yet.
That appears to be exactly what happened to megamanexe4 over on the Destiny reddit, who captured a handful of high quality screenshots showing off their discoveries. Since this information doesn't come directly from Bungie, we have to tag it as a "rumor" for the time being, but it's a pretty convincing rumor if that's the case. The images look legit and, really, why would you want to fake something like this?
The content in questions reportedly hails from the next bit of in-game DLC, called "House of Wolves." For those of you keeping tabs, that'll be the final piece of content included in the original season pass for Destiny's post-launch content and, if additional rumors are to believed, another three big pieces of DLC could be heading our way in the coming year.
You'll want to check out the original post to see all of the images, though there isn't a whole lot to drool over at the moment. No images of new enemies or anything like that, just hints at things to come. For starters, a "Reef Social Space" is listed as a location you can travel to, which we assume is similar to the current (not very) social space, The Tower.
The images also show off new Crucible modes for the DLC, including the Inferno Rumble mode that turns off Supers and radars, as well as a new mission and a new Strike.
The level 30 mission is called "Nightcrawler," while the Strike is called "Belly of the Beast," a level 28 adventure that has you looking for a Fallen Wolfship in need of clearing.
Your Daily Blend of Entertainment News
Staff Writer for CinemaBlend.