Destiny's Xur Returns With Ice Breaker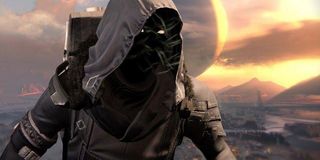 The traveling vendor Xur has returned once again to Destiny. This weekend, he's selling a weapon that many players having been waiting to acquire.
Ice Breaker is an Exotic sniper rifle that fires Solar damage rounds. Its perks are what make it so popular for PvE, though. The Ice Breaker regenerates ammunition every four or five seconds, and has a chance to replace the ammo for missed shots. Furthermore, kill targets will blow up and deal damage to any nearby enemies. The low recoil and rate of fire make it less useful in the Crucible but nonetheless, it's a useful weapon for any player's collection.
This weekend you can find Xur at the Tower Hangar lounge. Here's the full list of his wares along with their prices (via Reddit):
Exotic Gear
Helm of Inmost Light (Helmet for Titan) - 13 Strange Coins
Crest of Alpha Lupi (Chest armor for Hunter) 13 Strange Coins
Light Beyond Nemesis (Helmet for Warlock) - 13 Strange Coins
Ice Breaker (Sniper Rifle) - 17 Strange Coins
Exotic Shard (Crafting material) - 7 Strange Coins
Curios
Scout Rifle Telemetry (Consumable) - 1 Strange Coin
Hand Cannon Telemetry (Consumable) - 1 Strange Coin
Fusion Rifle Telemetry (Consumable) - 1 Strange Coin
Plasma Drive (Vehicle Upgrade) - 23 Strange Coins
Emerald Coil (Vehicle Upgrade) - 23 Strange Coins
Urn of Sacrifice (Quest item) - 1 Strange Coin
The Urn of Sacrifice is needed for the first step in quest for The Dark Below. The quest, offered by Eris, ultimately awards the player with a pair of Legendary gloves.
Xur also sells Exotic Upgrades for select armor and weapons as well. These upgrades require you to have the original item, an Exotic shard, and 7,000 Glimmer. This weekend, he'll upgrade the following items for you:
Knucklehead Radar
Crest of Alpha Lupi
Helm of Inmost Light
Crest of Alpha Lupi
Apotheosis Veil
SunbreakersGauntlets
The Last Word
Ice Breaker
Patience and Time
Super Good Advice
Gjallarhorn
Truth
Destiny players have a love-hate relationship with Xur due to his rotating set of wares. They get their hopes set on a particular item and log in on Friday, only to find that he's selling unimpressive equipment like No Land Beyond. Bungie's been accused in the past of deliberately preventing Xur from selling the best gear, but the developer maintains that his wares are dictated by chance.
"Xur is randomized," community manager David Dague said a couple weeks back. "There are times when we can pull off miracles like making him stay in the Tower longer when Christmas is cancelled, but his inventory is governed by the same chaos that influences all the loot drops."
You'll have plenty more chances to get your Gjallarhorn from Xur while it's still a top-of-the-line weapon. Destiny's next expansion pack House of Wolves won't be out for several months.
Your Daily Blend of Entertainment News
Staff Writer at CinemaBlend.