Diablo 3 Reaper Of Souls Adventure Mode Is The Expansion's Main Feature, Blizzard Says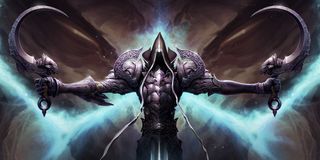 Diablo 3's expansion Reaper Of Souls will add a new act to the campaign as well as the Crusader class. However, lead content designer Kevin Martens says that Adventure Mode is the best reason to buy Reaper.
"I would call Adventure Mode the primary feature of the expansion," Martens told PC Gamer in a new interview. "That said, I think Act V is our best act, so we did take everything we learned there."
Act V takes place after the events of the main campaign. Malthael, former Archangel of Wisdom, has stolen the Black Soulstone and plans to use it to wipe out humanity for good. Players' quest to stop them will take them to the kingdom of Westmarch as well as the Pandemonium Fortress.
"You do have to kill Malthael once with one character before Adventure Mode is unlocked. But knowing that you don't have to play story mode over and over again allows people to relax and just enjoy Act V for what it is; and they may or may not come back to it after that, but they don't have to. It doesn't feel as onerous to sit through those things."
Adventure Mode unlocks all waypoints across the game world and takes out most of the story elements. The mode allows you to pursue Bounties, randomized quests that tell you to kill a unique monster, clear a dungeon or complete an event. Completing them earns you gold or experience. New Bounties will be created every time you start up the game.
You'll also get Rift Keystones for finishing Bounties. These Keystones can be used to access Nephalem Rifts, referred to as "Loot Runs" earlier in Reaper of Souls' development. Rifts are 10-15 minute dungeons with random layouts, monsters and bosses. Players will encounter new shrines and combinations of enemies.
The lack of a satisfying end-game was one of the biggest flaws of Diablo 3. You defeat Diablo and your only option was to play the campaign over again with higher level monsters. Adventure Mode sounds like a significant solution to that problem. Players' ultimate goal is about the same - keep getting better gear - but at least they won't be replaying sections of the campaign to do it. The randomized dungeons could be worth many more gameplay hours than Act V.
Reaper of Souls' closed beta wrapped up last week. The following day, Blizzard released Patch 2.0.1 to introduce several new features including Paragon 2.0 progression and clan support. Reaper of Souls will launch worldwide on March 25th on the PC and Mac.
Staff Writer at CinemaBlend.
Your Daily Blend of Entertainment News
Thank you for signing up to CinemaBlend. You will receive a verification email shortly.
There was a problem. Please refresh the page and try again.