Dishonored Game Of The Year Edition Includes All The DLC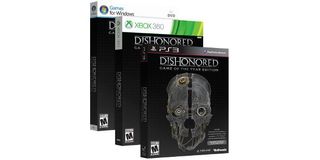 Arkane's stealth-action game Dishonored will be returning to stores in October. They've created a Game of the Year Edition with all of the downloadable content previously released for the game.
Dishonored is set within the steampunk city of Dunwall. Following the Empress' murder, a supernatural assassin named Corvo begins his quest for revenge. He can complete his missions using a combination of stealth, gadgets and lethal weapons. The choices you make through the branching missions and the body count you accumulate will change the storyline and ultimate ending. We liked it a whole lot.
The Game of the Year bundle comes with four downloadable content packs in total. The first is Dunwall City Trials, ten standalone levels that will challenge a range of skills. By completing these missions, you'll earn new Achievements and other bonus content. The top performers in each challenge will be spotlighted in the global leaderboards.
The meatiest DLC in the package is a two-part campaign starring Daud. Daud is the secretive assassin and gang leader who killed the Empress in the beginning of the campaign. He possesses different weapons and abilities than Corvo, making his journey a bit different than the main campaign. Daud's quest for redemption begins in The Knife of Dunwall add-on, which takes him to the Legal District and the Rothwild Slaughterhouse among other places.
The story of Daud draws to a close in Brigmore Witches. In this DLC, he'll battle a coven of witches as well as warring gangs. Your items and upgrades from Knife will carry over to Brigmore assuming you finished the first add-on. Player's choices throughout the two DLC packs will affect the ending of the two-part campaign as well.
The fourth and final add-on in the GOTY edition is the Void Walker's Arsenal. Instead of providing players with more challenges, Void Walker's Arsenal simply gives you a lot of loot. It's a compilation of the four bonus packs offered to pre-order customers. These bundles provide ability boosts, extra cash and in-game texts for the main campaign.
The Game of the Year Edition will hit stores on October 8th. It will cost $39.99 / 39.99 € / £ 29.99 /$69.95 AUD on the Xbox 360 and PS3, and $39.99 / 29.99 € / £24.99 / $49.95 on PC.
Image 1 of 6
Your Daily Blend of Entertainment News
Staff Writer at CinemaBlend.