The Division Backpack Bug Is A Major Problem, Get The Details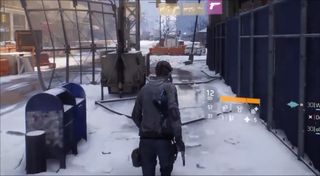 Ubisoft's The Division has a major bug that has gamers getting stuck in a loading screen. It apparently has nothing to do with the player's account, user profile or even the console or PC platform. The issue is supposedly coming from a bug attached to a high-end backpack.
Gamespot is reporting that players are reporting to Ubisoft that they are getting locked out of their accounts or suffering through extremely long load times when playing The Division.
The article explains that it could be attached to a high-end, high-level backpack in the game where reports have been coming in from players stating that the backpack disappears and that they sometimes get stuck in The Division's loading screen when attempting to join a friend during a mission.
Now sometimes it's easy to dismiss claims and complaints, that perhaps it's just a few suffering this issue and there's nary a thing for Ubisoft to worry about. However, some YouTubers have been documenting this occurrence as well, showcasing that the high-end backpack glitch is real. You can see part of the glitch in action courtesy of Jon L.
According to the Gamespot article, gamers have been complaining about this particular bug for more than a week. Stating that the long load times in The Division or being locked out of the account is just part of the problem. As the video above shows, some players are getting stuck in an infinite reload state of their primary weapon.
Users over on the sub-Reddit for Ubisoft's The Division have claimed that despite the complaints the issue hasn't been addressed yet. While some wondered if it was caused by the latest patch that went live, the time line of complaints date back before the March 22nd patch to version 1.02.
Ubisoft just recently made a post on their official forums where the community manager stated...
It's a strange glitch but hopefully one that gets fixed soon. They don't say exactly if backpack disappearing and taking some of your items with it makes them permanently stay gone or if they return if you can get the backpack to reappear. That's the nature of glitches.
Some users are commenting in the Gamespot article that they've been locked out of their accounts as far back as Saturday. Others are claiming that only one of their characters are inaccessible in The Division. A few more are stating that they can access their characters but there's a long load screen and a bleeding effect on the screen, which does not sound good at all.
Many are hoping that Ubisoft will offer a hotfix patch for The Division to resolve the issue. It appears to be platform agnostic, affecting those on Xbox, PS4 and PC. One thing is for sure, the longer the bug persists the more Ubisoft will pick up ill-will from the community.
Your Daily Blend of Entertainment News
Staff Writer at CinemaBlend.