Doctor Who: Worlds In Time MMO Announced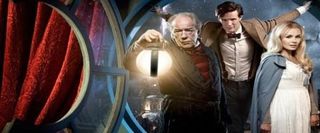 If you've been questioning "Where are all the Doctor Who MMOs?" – because let's face it we probably ask that question once every other week – well you no longer have to question that because Three Rings is currently developing a free-to-play MMO based on the popular, long-running sci-fi show.
According to MCVUK, the new MMO will see players stepping foot into the TARDIS and venturing around various dimensions, universe, galaxies, time-periods and worlds in order to save stuff.
Based on the description of the game it doesn't sound like there will be a lot of typical grinding, though, as players will venture about solving puzzles and saving lives while doing so.
BBC Worldwide's Robert Nashak commented that…
The game is planned to be a free-to-play title with microtransactions working as the financial structure for the project once it releases.
Staff Writer at CinemaBlend.
Your Daily Blend of Entertainment News
Thank you for signing up to CinemaBlend. You will receive a verification email shortly.
There was a problem. Please refresh the page and try again.