Double Dose Of Sonic Games Speeding Onto Mac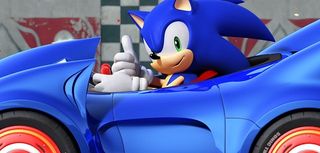 Sonic the Hedgehog is a pretty fast dude, but even he takes quite a while to make the journey to Mac. That's not so bad considering the fact that he's coming in a double dose of video gaming goodness. Feral interactive has announced that both Sonic and Sega All-Stars Racing and Sega Superstars Tennis will be made available for Mac sometime this summer.
As the games' names might imply, Sonic is bringing along some company in this duo of fast-paced sporting goodness, including buddies from his own games like Dr. Eggman, Tails, Amy and Shadow, as well as characters from other big titles like Tag (Jet Set Radio), Alex Kidd (Alex Kidd), Aiai (Super Monkey Ball) and more.
Both games will allow players to participate in single player and split-screen events, as well as online competitions thanks to Apple's new Game Center technology, which will be featured in the upcoming Mac OS, Mountain Lion.
Sonic and Sega All-Stars is Sega's entry to the karting genre, pitting players against one another in wacky races spread across levels themed after Sega staples. There are four series of campaign circuits, additional challenge modes and all the multiplayer options a racing fan could ask for.
Sega Superstars Tennis takes that same formula and paints it onto the tennis court, pitting memorable characters against one another on themed courses or in a variety of minigames.
Pricing and a release date have not yet been announced, but more information is promised once the game draws closer to its (undetermined) release date sometime this summer.
Your Daily Blend of Entertainment News
Staff Writer for CinemaBlend.