No Doubt On Guitar Hero III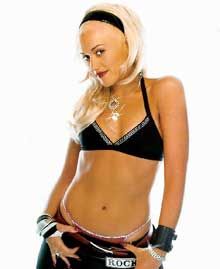 Gwen Stefani is confirmed hot. This happened in my mind many years ago. But what is not quite at the same level is a three-song pack with one decent track and two duds from No Doubt. Why bother getting into the No Doubt ska groove if you're going to exclude "Spiderwebs" or "Just A Girl?" It's not a worthwhile endeavor in my mind. But if you're a big No Doubt fan then this week Guitar Hero III has the DLC for you.
Now available on Xbox LIVE Marketplace and PlaystationStore are master recordings of "Don't Speak," "Excuse Me Mr." And "Sunday Morning." If your heart lies in mid-90s girl powered upbeat angst, then feel free to download the pack.
The real question is how worthwhile are these song packs for GHIII? While Rock Band is rolling out content like Police and Nine Inch Nails tracks, and each week, Guitar Hero can barely keep up in quantity or quality. Perhaps the plan is to get you to buy those 38 new versions all year long. Enjoy that.
Staff Writer at CinemaBlend.
Your Daily Blend of Entertainment News
Thank you for signing up to CinemaBlend. You will receive a verification email shortly.
There was a problem. Please refresh the page and try again.