Dragon Age 2 Mark Of The Assassin DLC Stars Felicia Day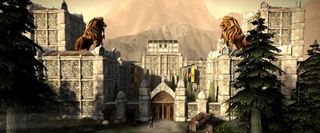 BioWare has another downloadable adventure for Dragon Age 2 up its sleeve. The latest DLC, "Mark of the Assassin", features The Guild star Felicia Day.
Day lends her voice and likeness to the character Tallis, an elf assassin. Tallis convinces you to help her infiltrate an Orlesian estate outside Kirkwall. In order to steal the relic known as the Heart of the Many, you'll need to battle through an army of guards and avoid a number of deadly traps. Oh, the countryside around the estate is swarming with monsters. All in a day's work.
This isn't the first appearance of Tallis in Dragon Age lore. She was also part of a six-episode web series. Felicia Day, who wrote the series, played Tallis in it as well.
"Mark of the Assassin" will hit the PS3, Xbox 360 and PC on October 11th. It's priced at $10.
Get More: GameTrailers.com, Dragon Age II: Mark of the Assassin - Exclusive Debut Trailer, PC Games, PlayStation 3, Xbox 360
Staff Writer at CinemaBlend.
Your Daily Blend of Entertainment News
Thank you for signing up to CinemaBlend. You will receive a verification email shortly.
There was a problem. Please refresh the page and try again.