Dragon Ball Z Raging Blast 2 Demo Now Available On Xbox Live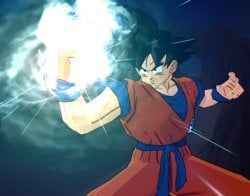 Namco Bandai sent out a reminder that all those angry teenage boys who need an outlet to vent can do so with the DBZ: Raging Blast 2 demo, which is now available to download via Xbox Live. And don't worry, all you PS3 fanboys with unbridled pent-up rage can unleash your anger through a golden-haired super Saiyan in a DBZ: Raging Blast 2 demo, which is scheduled to arrive on PSN later in the month.
As stated in the press release…
And if that's not enough to get anime fanboys up and out of their butt stables (also known as a couch) Namco tossed in a full episode of Dragon Ball Z called 'Plan to Eradicate the Super Saiyans' on the disc.
There's really no point wasting anymore words here. You can head on over to the Xbox Live Marketplace to pick up a demo of Dragon Ball Z Raging Blast 2 or visit the Official Website to learn more about the game. Dragon Ball Z Raging Blast 2 is set for release on November 2nd.
Staff Writer at CinemaBlend.
Your Daily Blend of Entertainment News
Thank you for signing up to CinemaBlend. You will receive a verification email shortly.
There was a problem. Please refresh the page and try again.