Dragon Ball Z Ultimate Tenkaichi Android Saga Preview Trailer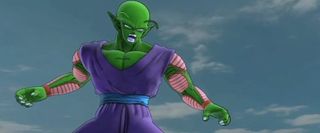 There may be a ton of DBZ games that all seem the same, and for the most part, they are the same. However, the newest game from Namco Bandai, DBZ: Ultimate Tenkaichi, adds a couple of new gameplay elements and a game-changing HERO mode that really gives long-time fans something to look forward to.
Following up on the character creation announcement in Ultimte Tenkaichi, Namco Bandai unleashed a brand new trailer showcasing the DBZ cartoon saga fused with actual gameplay, leading up to the Android and Cell fight. You can check out the new trailer below.
The game looks pretty slick. Gameplay wise everything still looks the way it does from the PS2 games, however, with added environmental destruction and deformation, a new special effects engine and improved character animations, the fights will be bigger, badder and better than ever before.
The HERO mode is the one thing that really has me excited for the game, though, and if it's done right it could add an immense amount of replay title to Ultimate Tenkaichi.
The newest Dragon Ball Z game from Namco Bandai is due out on October 25th for the Xbox 360 and PS3. You can learn more about the game by heading on over to the Official Website.
Staff Writer at CinemaBlend.
Your Daily Blend of Entertainment News
Thank you for signing up to CinemaBlend. You will receive a verification email shortly.
There was a problem. Please refresh the page and try again.