Duke Nukem's Massive Legal Battle Is Finally Over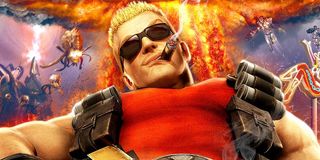 The legal battle between Gearbox Software, 3D Realms and Interceptor Entertainment over the rights to Duke Nukem is over. The companies announced today that they've settled their differences.
Gearbox is now the sole owner of Duke Nukem, according to a statement issued by the companies:
The legal dispute stems from Duke Nukem Forever. 3D Realms, the creator of the classic Duke Nukem games, toiled away at Duke Nukem Forever from 1997 until 2009. The studio was finally forced to lay off the entire development team for DNF. Everyone assumed that the long-delayed game was finally dead.
However, Gearbox then stepped in to rescue the project. They helped Triptych Games, a studio made up of laid-off DNF team members, finish the shooter. Duke Nukem Forever was then released in 2011. Shortly afterward, Gearbox acquired the Duke Nukem license from 3D Realms.
Apparently there was some confusion over who truly owned Mr. Nukem, though. In 2014, 3D Realms and Rise of the Triad remake studio Interceptor Entertainment announced top-down shooter Duke Nukem: Mass Destruction. Gearbox, who felt they owned the franchise completely, sued the two. 3D Realms claimed they had the rights to make one last Duke Nukem game and that Gearbox Software hadn't raised any objections when told about the project two years prior. Cue the lawyers.
3D Realms, since purchased by Interceptor, now chalks up the situation to a misunderstand. Here's CEO Mike Nielsen's comments in today's statement:
Duke Nukem Forever received brutal reviews at launch. Gearbox attributes those reviews to unrealistic expectations though and says they'd love to make a follow-up game. They recently said that they've done some "concept development" but are too busy to pursue the project on their own. They would need to partner with another studio to make the game happen.
Interceptor and 3D Realms, meanwhile, are working on an isometric action RPG called Bombshell. They expect to release the game on PC later this year.
Staff Writer at CinemaBlend.