Dustforce Coming To Xbox 360, PS3, PS Vita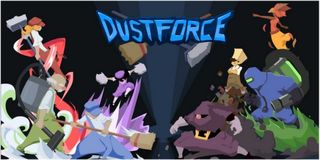 Capcom is bringing the cult hit Dustforce to home consoles and Sony's PlayStation Vita. The side-scrolling, action-platformer that sees players fighting off pockets of dust in challenging stages was unveiled as a port for consoles during Sony's PAX Prime conference.
Capcom made the news known on their official Unity blog (one of the many big blogging outlets in which traditional gaming journalists are slowly running out of a reason to be employed). They casually announced and simply stated that...
Sony has really been working hard to push that cross-play support between the PS Vita and PS3 (and successively, the PS4). This is definitely going to be one of the big features that Sony will continue to market as the big selling point of their devices.
In fact, you can purchase items from your Vita and have them pre-load on your PlayStation 4 using the new remote loading feature. Even more than that, the ability to cross-play content from the Vita on the PS4 is a really enticing feature.
There weren't many details shared about the Xbox version of the game, but I imagine Capcom is just porting it to the Live Arcade out of the courtesy of hitting more money markets as opposed to setting up anything special for 360 owners.
As for the game itself... Dustforce was a very surprising game. The opening movie and electronic chipwave soundtrack really managed to stand out. In addition to this, the gameplay in Dustforce revolved around tackling platform puzzles at break-neck speeds while clearing out balls of dust and dust bad guys. As the name indicates, players assume the role of a janitorial crew, with various members of the team contributing their skills and expertise to the cause.
While the description seems simple, there were some really crazy combos, fighting and platforming mechanics that made Dustforce both fun and extremely hard. Trying to maintain a stringed combo by cleaning up the dust and hopping off the platforms was not an easy task, but if you were good enough to pull off some of the more difficult obstacles it looked quite cool.
In fact, you can check out some of the gameplay of the indie title below. Capcom will release additional details relating to the game's official release date and pricing at a later time. If you have a PC (pretty much of any kind, given the game's low minimum requirements) you can pick up a digital copy from Steam right now.
Staff Writer at CinemaBlend.