E3 2007: KillZone 2 Facts And Features Unveiled For PS3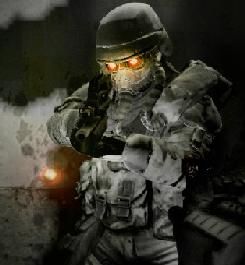 This has been the moment every Sony fanboy has been waiting to see for a very long time. And after all the hype, the speculation and the doubt, Guerilla has finally let loose the news on the most prized sequel for the PlayStation 3: Kill Zone 2. Check out the fact sheet right here on CB Games.
Before getting to the facts, though, let's go over a more important aspect of the game: The story. This time around, in Killzone 2, players will be fighting for a simple objective – the goal is direct: capture the Helghast leader, Emperor Visari, and bring the Helghast war machine to a halt. Easy right? Wrong. This game is brutal, it's hardcore and it's built around amazing new graphics, the ability to pilot all new vehicles, extended multiplayer features and probably an unrivaled scope of intense, bloody combat.
Be sure to keep up with the latest news offerings on KillZone 2 by visting our E3 Coverage Center.
KillZone 2 Fact Sheet:
• Experience realistic, highly atmospheric environments that respond dynamically to the violent conditions on the planet Helghan.
• Witness the devastating effects of Helghan's climate as it forces you and your enemies to adapt to new tactics.
• Control an arsenal of new and unique weapons and vehicles, in addition to trusty Killzone classics like the M82-G and the StA-52 LA.
• Face off against fearsome enemies who have learned to wield the hostility of Helghan itself against their opponents.
• Between Killzone 2's unique visual style, the power of PS3, the use of EDGE tools, and the proprietary technology developed by Guerrilla, the game promises to impress players with its benchmark visuals, smooth character animation, detailed, effect-laden environments, and realtime cutscenes.
• Experience a beautifully lit world brought to life by deferred rendering technology. Multiple shadows casting light sources bring out the highly detailed environments and character animations.
• With true next-gen audio the player is further immersed in the world, supporting 7.1 surround and location-specific audio with wave tracing. Players will not only notice the difference between indoor and outdoor but also experience sound and music that are dynamic and contextual.
• Studio grade special effects will provide unprecedented visual fidelity. With full screen anti-aliasing, motion blur, internal lens reflections, and depth-based color grading, players will experience a picture that is sharp, smooth, and full of detail.
Staff Writer at CinemaBlend.
Your Daily Blend of Entertainment News
Thank you for signing up to CinemaBlend. You will receive a verification email shortly.
There was a problem. Please refresh the page and try again.