E3 2009: Sony Announces Eye-Toy Motion Controller For PS3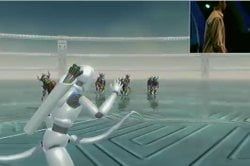 Sony's press conference at this year's E3 rendered some interesting results. While it certainly started with some smooth streamlining and some interesting game announcements, during the end of the conference they unveiled a new Eye-Toy for the PS3 that offers motion-controlling capabilities.
I'll be completely honest in saying that the device looks cheap and the live tech demonstration was almost on the line of being a failure. Mostly it was because the entire thing seemed extremely over-sensitive to the user's input and it made it difficult to gauge how convenient the new motion-controller really works.
The controller was used in a variety of scenarios, including whacking on a tennis ball with a stop sign, battling a skeleton with a kendo stick and partaking in some first-person action in a tank. The motion-controller basically has its movements read and re-displayed on screen with pin-point accuracy.
The best way to describe the PS3's motion controller is like a black Wii-mote being used with Microsoft's NATAL. Scream and cry all you want fanboys, but literally, that's exactly how it operates. We have a few new screen captures of it from the live show down below.
No release details or development kit news was announced regarding the motion controller for the PS3. Backwards compatibility was also kept on the down-low. No worries, though, we'll keep you posted on any new happenings that occur in the Sony camp regarding the new device. Until then, be sure to stay tuned in with Blend Games.
Image 1 of 4
Staff Writer at CinemaBlend.