E3 2013: An Xbox Press Conference Diary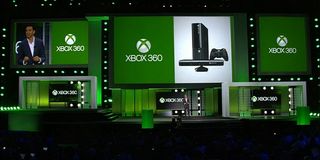 It's 8:45 a.m. and, after a couple of hours waiting in line, the ladies in green dresses and "X" necklaces have started herding countless E3 visitors into the Galen Center for the Microsoft media briefing. Showtime is drawing near.
I've taken a seat in the first balcony, where I'm now staring down at a stage awash in Xbox Green lighting. Will we get new details about the Xbox One's capabilities? Perhaps some clarification concerning used/borrowed/rented games? How about all of those game reveals we were promised?
It's about an hour yet until showtime. I'm sure you've heard many of the announcements and seen plenty of trailers by the time I'll actually get to post this (It's kind of crazy here and a decent wifi signal is tricky to come by). So don't think of this as a play-by-play so much as one man's journey through the Xbox presser. Okay, Microsoft...We're ready to be impressed.
Metal Gear V: The Phantom Pain
Opening any press conference with Snake riding a horse through an open world is always a good idea. The stealth looks great, the action looks intense and, oh my, just look at those sweet next-gen graphics. Snake is back, indeed.
A new, smaller and quieter Xbox 360 designed to look like the One? I'm sure that won't confuse mom and dad come Christmas. That aside, offering two games per month for Gold subscribers, a la PlayStation Plus, is a huge step in the right direction. And let's not forget the fact that World of Tanks is coming to the 360 as a free-to-play game, so that's pretty dang rad, too.
Games, games, games
Well, Microsoft promised that the E3 presentation would be all about the games and they certainly weren't exaggerating. Quite a few games were on display, the majority of which were console exclusives including the tactical action game, Ryse, and the relaunch of the Killer Instinct fighting franchise (yes please).
We got to oggle some new Forza 5 footage, as well as take a gander at the Xbox One edition of Minecraft. Quantum Break made a slightly less confusing appearance following its Xbox One event reveal a few weeks ago and D4 was briefly teased as an episodic murder mystery. There was also a nice look at Project Spark, the Xbox One's answer to LittleBigPlanet, giving players the tools necessary to create and share their own games.
There was some decent variety all told, but one aspect certainly stood out amongst many of these games...
Pew! Pew! Pew!
From Battlefield 4 and Insomniac's upcoming Xbox One exclusive, Sunset Overdrive to Dead Rising 3, a new Halo and (the admittedly impressive-looking) closer, Titanfall, one thing about the Xbox One is certain: The system is going to push out the shooters. I'm not going to pretend I'm not intrigued by each of the above games. I'm eager to take all of them for a spin. What I'd like to see out of the next gen, though, isn't better versions of the games we've been playing for years now. I want new experiences that I can't get anywhere else. I would have preferred a few more original offerings overall but, yeah, I do still love me some bullets.
New features!
Finally, the folks on stage took a little bit of time to show off some new bells and whistles for the Xbox One. The Smart Glass integration looks nice, offering a second screen experience that will help the console keep pace with the Wii U and PS3/Vita combo. Dynamic game swapping and pre-loading online matches is a great streamlining feature and the Twitch integration means you'll be able to share your best achievements with the rest of the world directly from the console.
While I'm still not convinced a new console generation was necessary just yet, Microsoft and the Xbox One are certainly making some compelling arguments for the "future" to be "now." Now let's just hope they can actually deliver on these promises. Everything looks and sounds great in theory, but we won't know for sure until the Xbox One launches this November for the slightly pricey $499.
Staff Writer for CinemaBlend.