E3 2013: Creator Andrew Spinks Digs Into Terraria For iOS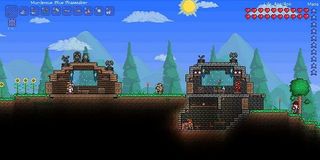 Terraria has come a long way since its humble indie launch on PC a couple of years ago. Since then, the game has made its way to Steam and consoles, with a PlayStation Vita port coming sometime this summer. But creator Andrew Spinks isn't done with the game yet. He's partnered with 505 Games to bring Terraria to iOS, and both parties are pretty dang excited about how the game is shaping up.
505's Bryant Bustamante led me through a hands on demo of Terraria for iOS during day one of the E3 games conference. He said the game isn't quite ready for launch but, with a "couple more months" before the title is ready to roll, everything seems to be coming together nicely.
At its core, Terraria for iOS is the exact same game series fans have been playing on PC and consoles, only now the game has been custom fitted to work well on an iPad. The game looks the exact same and, once you get used to the controls, it plays about the same as well. In some ways, it even manages to improve on the formula.
Movement is handled with a virtual joystick on the bottom left of the screen. Your equipped item can be used with a button/joystick hybrid on the right side of the screen, or you can just tap directly on the item you want to whack, dig, chop.
Your inventory is shown at the top of the screen and swapping items is as easy as tapping on whatever it is you want to use. Your character now jumps automatically whenever you run directly into a wall, making traversal with the virtual controls that much easier. The screen can also be zoomed in and out, making precise building/digging easier than ever. Zoomed in, a grid even pops up on the screen when the player is interacting with it, meaning no more destroying the wrong brick in your beautiful castle wall.
According to Bustamanti, 505 Games took Terraria's fanbase into account when designing the iOS version.
"We knew the fans were a very dedicated group and, if we did something wrong, they'd be the first to let us know," he said. "So we wanted to make sure we get this right. We wanted to make the game more accessible for the iOS platform, but we also wanted to keep that Terraria-ness intact."
It's no secret that Terraria has grown, both as a game and in popularity, over the years, something Creator Spinks said he never expected.
"I had no plans to sell it or anything in the beginning. I just thought it was a cool idea for a game, so I just sat down and started doing it," Spinks said. "Every time I sit down to work on it, I think, what would be cool to do next? What would be cool to add? That's how it got to this point."
And as the game got bigger, so did its audience.
"Before I announced the game, everyone said that it looked like a 2D Minecraft," Spinks added. "But then I put the first trailer up on Youtube and it just took off. I knew then that I had something, so I'm excited."
Spinks said that iOS has become a massive platform, available to a broad range of people who maybe don't play on consoles or PC.
"I just wanted to bring it to as many people as I could and have more people experience it," he said.
As for those who prefer android, Spinks said you haven't been forgotten.
"Plans for Android, um, yes, there are plans," he added. "And we'll just leave it at that."
Back on the PC version of Terraria, Spinks said he's still a couple months out from the next update, which will eventually make it to consoles, too. Like the last major update, he added that this one will "basically double the content of the game" once again.
"So that's what's going on right now and, after that, who knows," Spinks said. "We haven't really talked about it too much. Maybe a Terraria sequel. We'll see."
Your Daily Blend of Entertainment News
Staff Writer for CinemaBlend.