EA Not Making NFL Head Coach 10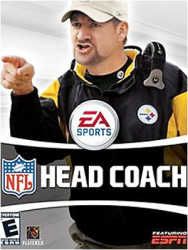 EA Sports recently revealed the cover athletes for Madden NFL 10 and NCAA Football 10 but they haven't made a peep about NFL Head Coach 10. There's a good reason for that - the project doesn't exist.
"We will not be releasing an NFL Head Coach 10," an EA spokesperson told Blend Games this morning. They declined to say whether there would be ever be additional installments in the series. The first two installments, NFL Head Coach and NFL Head Coach 09, were released two years apart so it's possible EA will be adhering to a biannual schedule in the future as well.
The NFL Head Coach series puts players in the role of a coach and general manager. Though Madden is a huge money-maker for EA, Head Coach hasn't enjoyed the same level of success. EA originally planned to release Head Coach 09 solely in a bundle with Madden NFL 09 and only announced a standalone release after numerous fans voiced complaints. The game went on to sell only about 70,000 units in its first week.
Staff Writer at CinemaBlend.
Your Daily Blend of Entertainment News
Thank you for signing up to CinemaBlend. You will receive a verification email shortly.
There was a problem. Please refresh the page and try again.