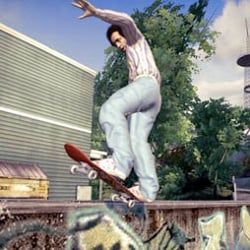 The ESRB given Skate 3 a "Teen" rating. However, unlike Skate 2, it's said to feature quite a bit of "crude humor." Stand by for bad innuendos.
"Skateboard decals depict close-up images of women's buttocks and cleavage; signs around the city contain suggestive innuendo (e.g., 'Strip-a-Grams,' 'Spooning,' 'BJ Industries,' and 'Master Bait & Tackle')." states the ESRB description. "A skateboard deck image depicts a marijuana leaf under the words 'Think Green."
The description continues: "Dialogue contains language such as "sh*t," "p*ssy," and "a*s"; it also contains some crude humor (e.g., ""[D]id you need me to bless it with some of my urine?" "Oh, I say do you have a laxative—I need some to release the pressure," and "Hey, you can just stay away from my rear, ya heard me? This ain't prison!").
Oh, skaters. You're so edgy. You're like Sprite in human form.
Your Daily Blend of Entertainment News
Staff Writer at CinemaBlend.