Ear Force X12 Announced For Xbox 360, PC; Coming This Fall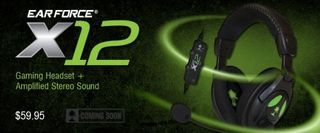 Turtle Beach announced that the next generation of high-end headsets will be available for Xbox 360 and PC later this year. The Ear Force X12 is a USB headset with in-line amplifiers, bass boost and microphone monitoring all for the moderate price of $59.99.
Michael Arzt, VP of Marketing and Sales for Turtle Beach commented in the press release, saying…
Any headset under $100 is definitely worth keeping an eye on just because you're not really paying an arm and a leg just to own the darn thing. The headset sports Dolby Digital 7.1 Surround Sound processing as well as 50mm speakers for high quality sound output.
If you're looking for a brand new headset to help you game or you're looking for a headset to replace your old X11 pair, you can look for the Ear Force X12 to land on retailer shelves and specific e-tailers starting this fall. You can check out a list of the headset's features with a list of features below. For more info be sure to visit the Official Website.
Ear Force X12 Features
• Amplified stereo audio for crisp highs and deep lows
• Premium 50mm speakers for highest fidelity sound
• Variable Bass Boost adds depth and realism to the game audio
• In-line amplifier that allows for independent control of chat, bass and game volume
• Microphone Monitoring so you never have to raise your voice to hear yourself
• Completely powered by USB so you will never need replacement batteries
• Lightweight design with breathable, fabric mesh ear cushions for enhanced comfort
• Fully-compatible with the DSS 7.1 Surround Sound Processor
Your Daily Blend of Entertainment News
Staff Writer at CinemaBlend.