Earth Defense Force 2025 Release Date Announced For PS3, Xbox 360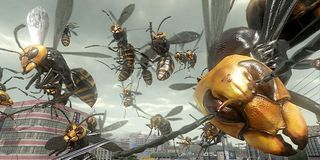 EDF! EDF! EDF! That's right, soldier! The biggest, baddest group of commandos to ever squash a bug are ready to deploy once again as D3Publisher announces the impending release of Earth Defense Force 2025 for the PlayStation 3 and Xbox 360. Whether at home or on the go, you can take the fight to the bugs come Feb. 18. Kill 'em all!
For those unfamiliar with the series, Earth Defense Force is basically the campy monster movie of video games, both in terms of its story and its production values. While the graphics certainly get the job done, nothing you'll see on screen is typically worth writing home about. The voice acting is horrendous and the one-liners your fellow soldiers shout over and over again are equally foul. The animations can get a bit robotic and there's very little in the line of story: Giant bugs are invading. Your job is to destroy them before they destroy mankind. Hooah!
But, like any good cult film, EDF certainly has its charms. It's not striving to be a military think piece or a realistic shooter full of gripping dialogue, memorable characters and a multi-layered, complicated villain. Similar to Deadly Premonition, the game's presentation is a huge part of its charm, perfectly fitting for a game all about blowing up massive ants with a bazooka.
While EDF 2017 came storming onto the scene for the 360, PS3 and Vita a few years ago, fans of the series have been clamoring for a follow-up, one that many assumed would not actually get localized this time around. It's a pretty niche market, after all, and there's no telling how well these games will sell as one console generation dies off and another one begins.
To the delight of said fans, though, D3Publisher has announced that their latest action romp, EDF 2025, will be arriving in the middle of February, complete with some additional DLC missions to keep players blasting bugs well into the wee hours of the morning. The game proper will retail for a slightly discounted $49.95, which will hopefully make this unique blend of shooting, shooting and more shooting appear a little more attractive to the uninitiated.
Keep in mind that, while the first bit of DLC will be available day and date with the game's launch, that's probably only because the localization process was carried through in one go and, in Japan, none of this extra content was available on the disc, either.
The first DLC pack (of three) is called Special Ops and will include five new missions for $2.99. Mutant Rampage will tack on another 20 missions for $8.99 on Feb. 25 while Beyond Despair will add another 20 missions for the same price on March 11. If you feel like holding out, these missions will be bundled together, too, presumably at a discount.
Your Daily Blend of Entertainment News
Staff Writer for CinemaBlend.
Your Daily Blend of Entertainment News
Thank you for signing up to CinemaBlend. You will receive a verification email shortly.
There was a problem. Please refresh the page and try again.