Elevator Action Deluxe Out Now For PS3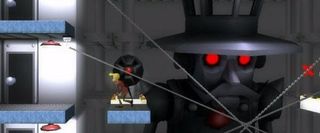 The classic Taito side-scrolling action game that should have shaped a genre but didn't, has been re-released exclusively for the PS3 on the PlayStation Network featuring all kinds of intense elevator and escalator inspired action, complete with explosive results.
The thing that made Elevator Action -- and its highly under-rated sequel, Elevator Action Returns -- so fun was because you didn't have a lot of life and enemies usually died in a single hit or two. It was basically a back-and-forth shootout through destructible environments where most of the traveling was done via elevators. There weren't a lot of weapons available in the game but what was there was usually satisfying enough to quench the thirst of action fans.
Square Enix wants to help rekindle those feelings of nostalgia by reinventing, or rather, remaking the old-school Elevator Action from Taito in a bundled Elevator Action Deluxe package. The new game sports four-player multiplayer, offline action as well as a robust single-player campaign and the full version of the original classic, Elevator Action.
Fans of old-school arcade games will probably want to grab up a digital copy as soon as possible. Elevator Action Deluxe is currently available exclusively on the PlayStation Network. You can learn more by heading on over to the Official Website.
Your Daily Blend of Entertainment News
Staff Writer at CinemaBlend.