Elite Dangerous Xbox One Version Announced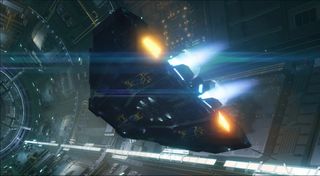 Frontier Developments recently announced that the space MMO that captured the attention of the PC gaming audience will be making the developmental trek onto Microsoft's Xbox One. That's right, Elite: Dangerous will be making the leap to Microsoft's home console.
There's a press release up and available that indicates that the Xbox One will be receiving the Kickstarted MMO space sim. The game was crowd-funded to the tune of $1.5 million by more than 25,000 backers. The game is all about creating your very own space opera in an open-galaxy environment mirrored after the vast expanse of the Milky Way.
As mentioned in the press release...
For a while there was a pretty big rivalry between Elite Dangerous and Star Citizen, but the latter has just exploded into a whole new tier that defies historical trends, expectations and any sort of imagined limitations.
Frontier Developments decided to keep Elite: Dangerous a bit more grounded, focusing more on the game's core elements and sticking with the basics of space travel and combat within a persistent, MMO universe.
However, sticking to the "basics" also managed to work against them when it was revealed that the game wouldn't have an offline single-player mode. This actually caused quite the ruckus in the crowd-funding community as some people were pissed that a promised single-player mode wouldn't make the cut. The reason the single-player was axed? Well, according to David Braben via Hexus, it was mentioned...
If you recall, there was a similar excuse made as to why Diablo III couldn't have an offline single-player mode on PC, but later Blizzard ported the games to consoles with offline single and local multiplayer modes. EA and Maxis also mentioned that SimCity couldn't be played offline, but modders later made it possible to play the game offline.
As for Elite: Dangerous on the Xbox One... the game is scheduled to receive all of the latest updates for the game from the PC version, including the upcoming March update that will roll out for PC players for free. As mentioned in the press release...
Despite the game's slight run-in with a lack of offline single-player, the visually stunning space epic should help flesh out the Xbox One's rather stark library when it comes to space simulators; but on the heels of 30 new indie games on the way, things are starting to look up.
The title is expected to launch later this year. You can learn more about the game by paying a visit to the official Elite Dangerous website.
Staff Writer at CinemaBlend.
Your Daily Blend of Entertainment News
Thank you for signing up to CinemaBlend. You will receive a verification email shortly.
There was a problem. Please refresh the page and try again.