Fallout 4 Xbox One Players May Need To Re-Download Game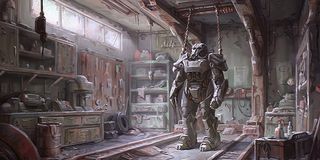 Let's say you've pre-ordered Fallout 4 on Xbox One, and pre-downloaded the game in order to get ready for the Nov. 10 launch. Well we've got some interesting news for you, as you may actually need to re-download the game before venturing out of the vault.
This isn't actually as bad as it may sound. But according to a recent post on the Bethesda blog, anyone who pre-ordered Fallout 4 on or before Oct. 27 needs to check their file to be sure they're ready to play the game as soon as it launches. We're going to make a wild guess that the vast majority of folks who pre-ordered Fallout 4 did so after that deadline, like around a week ago, so this little snafu probably affects a large number of gamers. Bethesda addressed this matter in the following statement:
So there, in short, is the situation that may be keeping you from playing Fallout 4 when it goes live at midnight on Nov. 10. The link to the original blog post gives you a handy rundown of how to check if your Fallout 4 file is the correct one or just a placeholder that was supposed to be replaced by the actual file. In short, if the file size is around a gigabyte, it's the wrong one. The actual file should be closer to 25 gigs or higher, according to a subsequent update from Bethesda.
Don't worry if you fall into this category, as both Bethesda and Microsoft have provided further information on how to correct this error. All you need to do to fix things up is re-download the file. Directions for that process can be found at the Xbox One official website (opens in new tab). Everything seems really cut and dry, so here's hoping it doesn't turn out to be a hassal to get the proper file on your console. If any of our readers have discovered they need to download the correct file, we'd be interested in hearing how the process went in the comments section below. Was it a virtual nightmare or a simple process of clicking a few buttons and waiting a few hours for the actual file to download?
Otherwise, here's one more look at that launch trailer and a final reminder that you can download the official Fallout 4 app and start tooling around with it early right now.
Your Daily Blend of Entertainment News
Staff Writer for CinemaBlend.
Your Daily Blend of Entertainment News
Thank you for signing up to CinemaBlend. You will receive a verification email shortly.
There was a problem. Please refresh the page and try again.