Family Guy: Back to the Multiverse Screenshots Shoot Up Quahog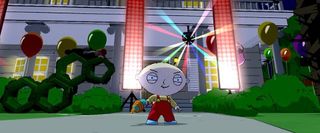 Family Guy seems like unlikely inspiration for a shooter but Heavy Iron is giving it a shot. A set of screenshots for PS3/360 title Family Guy: Back to Multiverse show that they're doing a respectable job of turning the raunchy cartoon into an action game.
Back to the Multiverse has the same basic premise as the TV episode "Road to the Multiverse." Stewie and Brian find a magical remote control that lets them travel to alternate universes. The two must fight their way through these alternate realities and stop the diabolical plan of Stewie's evil twin, Bertram.
Instead of making a side-scroller, Heavy Iron has crafted a fully 3D world. The game still retains the visual style of the show. The only thing that looks a bit off in the screenshots is the camera angle. It's kind of low and tight on the character's back, Kingdoms of Amalur style. It's possible we're just looking at heavily cropped images, though.
The only other concern I have about Multiverse is whether it will have enough comedy to bear the Family Guy name. Shooters generally aren't very "chatty"; it seems like an RPG or adventure game would be more fitting. However, No One Lives Forever proved that shooters can be funny too so I'll suppress my skepticism for now.
Image 1 of 10
Your Daily Blend of Entertainment News