Far Cry 4 Hurk Trailer Pays Tribute To The Harpoon Gun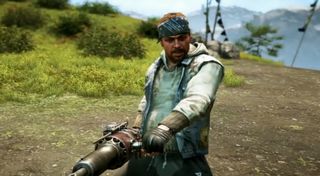 One minute and 42 seconds. That's how long the latest trailer is from Ubisoft for the upcoming first-person, open-world shooter, Far Cry 4. The trailer is all about pimping the pre-order bonuses in relation to the in-game character, Hurk. We get a glimpse at his monkeys, his weapons and his over-the-top personality.
The trailer is pretty slick. The action looks good. The montage is cleanly edited just the way you would expect from an AAA production.
No crapping around, though. I hate all this pre-order DLC nonsense.
I'll write about it but there's hardly any of it that I would encourage anyone to buy; I stand rightly opposite of that notion.
The DLC itself contains three exclusive missions and a special weapon known as "The Impaler". The missions obviously involve the character Hurk... so that at least kind of spoils the fact that he doesn't die in the main story... pretty awesome how DLC now potentially contains massive spoilers just to get people to pre-order.
If you want further verification that the DLC may spoil the story, here's the main description on the YouTube page...
Hmm, so unless those three missions take place between some alternate dimension of the main story, it kind of reveals that Hurk is out to get redemption and finish whatever he started in the main game. Awesome.
The people commenting on the YouTube page were less concerned with the pre-order spoilers and more for the fact that there's three completed missions and a usable weapon that's been stripped from the main game and used as a way to pilfer money from consumers to pay extra money on top of the full game. You see, if you pre-order Far Cry 4 Ubisoft is "nice" enough to upgrade your purchase so you get the free gun and three missions... stuff that's already in the game.
One user summed up his feelings quite succinctly, writing...
Money talks, brother.
If people really want to put an end to the growing nonsense surrounding pre-order content, they would do best to inform their friends and their friends' friends not to buy the pre-order DLC. It seems as if there's this whole marketing culture surrounding pre-order content before the game even releases, where you're seeing almost an entirely different game being promoted alongside the main game with all the DLC peddling going on. Sort of like paying $30 for a season pass to play a few levels in Alien: Isolation.
Anyway, you can learn more about Far Cry 4 by paying a visit to the game's official website. The title is due for release on home consoles and PC starting November 18th, 2014.
Staff Writer at CinemaBlend.