Final Fantasy 7 PS4 Remake Will Dramatically Change Combat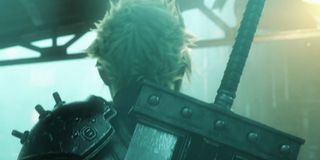 When the remake of the seminal classic Final Fantasy VII was announced during this year's E3 presentation, gamers around the world were shocked.
But they probably weren't as shocked as gamers will be when they hear the news that the famous Active Time Battle system of Final Fantasy VII could be changed up for the remake. GameSpot reports that when speaking to Official PlayStation Magazine, game director Tetsuya Nomura had some very interesting things to say regarding the changes, remarking that they will be "dramatic."
He continued, however: "That being said we want to clarify: We're not going to be changing it into a shooter or something like that. We are going to be bringing dramatic changes, but we want to make sure it's still recognizable."
It's an interesting statement to say the least, but it's far too early to judge based on some simplistic quotes from Nomura. "Drastic changes" don't necessarily mean bad changes, or even unfamiliar. Final Fantasy VII: Crisis Core went in a very strange direction as far as battles were concerned. Rather than having an overworld with random encounters with a turn-based system, it involved a slot machine that would often determine which moves were used, and it was used to great effect. Perhaps it's possible that this could be a viable system for Final Fantasy VII, though at the risk of alienating fans of the classic battle mechanics. Then again, it seemed as though this remake would never even happen, so there's that.
But getting rid of the familiar seems to be a trend with this remake, and I feel like that's actually a much better idea than going back to the predetermined "style" we saw in Final Fantasy VII: Advent Children. Back then when the film released, we all looked to it as an inspiration for the Final Fantasy VII remake we wanted to see. It was different and strange in several ways, but we adapted to the new, more realistic art style, the storyline, and even the characters themselves, who were a little less familiar since we saw them last. Something about it felt too sterile, too modern, and unlike the game so many of us grew up with.
What we've seen of the Final Fantasy 7 remake so far (as long as the debut teaser trailer is concerned) looks like slightly modernized versions of the main cast, an upgraded city, and possibly a different story than what we're used to. Changing up the battle mechanics really seems like a no-brainer at this point, especially since the core Final Fantasy audience has grown and changed so much over the years. It'll be an interesting sight to behold once the game is finally out. Hopefully we're all appeased. If not, there's always the Steam release to go back to in a pinch.
Your Daily Blend of Entertainment News