Final Fantasy X-2 HD Screenshots Reintroduce Rikku, Yuna, Paine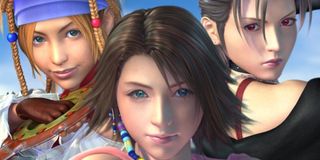 Rikku, Yuna, Paine have been given a facelift by Square Enix. New screenshots from Final Fantasy X-2 HD show how the three heroes have evolved since we saw them on PlayStation 2.
Final Fantasy X-2 HD is the first game in the series to feature an all-female cast. It's also the first direct sequel. Two years after the defeat of Sin in FFX, Yuna learns that her lover Tidus may still be alive. She embarks on a quest to find him with her friends.
Square Enix is developing the FFX-2 remake alongside the remake of its predecessor, FFX. They plan to release both games on a single Blu-ray for the PS3. PlayStation Vita gamers, meanwhile, will be able to purchase each game separately. The two remakes will arrive on Vita and PS3 this year.
As FFX-2 HD's title implies, it features high-def visuals not seen in the original version. That's all Square Enix has said about the remakes thus far. The website is still pretty slim on details. It's possible that the games will be unchanged aside from the visual upgrades. I imagine most fans would be happy with a simple re-release.
Image 1 of 11
Image 2 of 11
Image 3 of 11
Image 4 of 11
Image 5 of 11
Image 6 of 11
Image 7 of 11
Image 8 of 11
Image 9 of 11
Image 10 of 11
Image 11 of 11
Staff Writer at CinemaBlend.
Your Daily Blend of Entertainment News
Thank you for signing up to CinemaBlend. You will receive a verification email shortly.
There was a problem. Please refresh the page and try again.