This Is The First Ever Dragon Quest Game To Be Multiplatform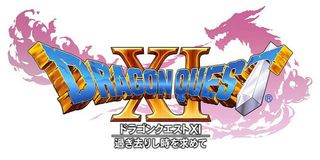 For the longest time, Dragon Quest has been unfairly relegated to the likes of handheld systems and mobile devices.
While it made its debut as a console RPG (via VG247), it's still managed to somehow flourish in this way, though fans of the series have long since clamored for a release that didn't have to play on the 3DS or a phone. The latest addition to the Dragon Quest series, Dragon Quest XI, changes all that, giving players the option to choose which platform they'd like to complete the game on for the first time in the history of the game's existence.
During Square Enix's special 90-minute conference streamed online this morning, several Dragon Quest titles were announced, most importantly Dragon Quest XI. It's headed for PlayStation 4, Nintendo 3DS, and quite possibly the Nintendo NX system, though Square Enix interestingly backpedaled on that announcement only moments after making it. It is, however, using Unreal Engine 4 and will be available in two different flavors.
The home console version will be created in the style of Dragon Quest VIII, whereas the 3DS version will have two modes to view the game. The top screen will support 3D with 3D battles, and the bottom screen will show classic 2D sprites. Of course, there's no way to tell what version the NX will be getting, as there have been no official details surrounding the console.
It's a great time to be a Dragon Quest fan right now, especially considering Dragon Quest X, the MMO, is celebrating its third anniversary and headed to PlayStation 4 and NX. That's not the only Dragon Quest game in town, with Dragon Quest Builders announced and channeling some of the best bits of Minecraft for its announcement trailer. It's headed for release for PlayStation 3, PlayStation 4, and PS Vita. There's also the upcoming mobile Dragon Quest title to round out what many would call the renaissance of Dragon Quest titles.
The free-to-play RPG will be coming some time in 2015 and will feature microtransactions (of course), but players will be able to travel through the stars in-game across a star map, customizing their own character to fight against the baddies who threaten their way of life and skipping across the stars. It'll be interesting to see how this new adventure fits in with the rest of the Dragon Quest series, and perhaps it'll mean we'll see all the missing games from the series coming to the west. What's your favorite Dragon Quest tale thus far?
Your Daily Blend of Entertainment News