Forza Horizon Pre-Order Cars, Limited Collector's Edition Announced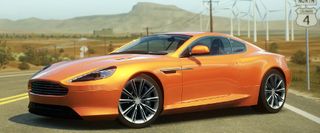 Like past Forza games, Forza Horizon will come packed with a huge amount of cars. However, there are a couple ways to get even more vehicles.
Pre-ordering Forza 4 at select retailers throughout the United States will earn you a token to unlock one of these four cars:
2012 Aston Martin Virage: Plush luxury meets awesome performance in the 2012 Aston Martin Virage. Comfortable enough for a long Sunday drive, yet sporting a blistering 490 horsepower V12, the Virage continues Aston Martin's legacy of creating cars that deliver prestige and performance.
2011 Mercedes-Benz SLS AMG: While Mercedes doesn't refer to the new SLS AMG as the "Gullwing," this car is absolutely the return of the famed automotive icon. With more than 560 horsepower, the SLS AMG is a track tamer nearly without equal, and its classic, sophisticated lines will attract car lovers of every stripe.
2010 Ferrari 458 Italia: A new Ferrari is always cause for celebration, and you can still hear the cheers from fans of the 458. The famed Italian automaker went above and beyond the call with this gorgeous example of road-devouring art. The 458 produces 562 horsepower and has a top speed over 200 mph, giving it the kind of performance needed to master the world's greatest race tracks.
2010 Nissan 370Z: The long line of Z model cars has a prestigious history and loyal following, but anyone can appreciate the beauty and power of this Japanese masterpiece. The 370Z features grippy handling and drift-worthy rear wheel drive, motivated by a 3.7-liter, V6 with more than enough juice to excite even the most die-hard of sports car enthusiasts.
Your Horizon pre-order will earn you a bonus Forza 4 car. The 2012 Dodge Challenger SRT8 392 is a modern-day muscle car with 470 horsepower. You'll receive a download code for this vehicle immediately after your pre-order. The code's just waiting there for you to take it. Are you man enough?!
Starting today you can either pre-order the Standard or Limited Collector's Edition of Horizon. The LCE, priced at $79.99, is packaged in a Steelbook case and comes with a "Festival Ticket" for the game. This ticket gives you access to special in-game events, exclusive car packs, and Accelerator tokens. Accelerator tokens give your career progression a boost, allowing you to unlock content in the game quicker.
Horizon is the first game in the series not solely developed by Turn 10 Studios. Playground Games is in charge of the game and has decided to put an open-world spin on the traditional racing gameplay. This intriguing spin-off will be available on October 23rd worldwide.
Image 1 of 7
Image 2 of 7
Image 3 of 7
Image 4 of 7
Image 5 of 7
Image 6 of 7
Image 7 of 7
Staff Writer at CinemaBlend.