GTA 5 Online Business Update DLC Launches On Xbox 360, PS3 Today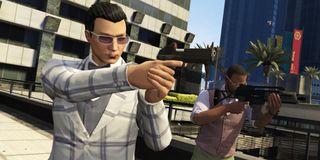 Today Grand Theft Auto 5 and its multiplayer component GTA Online are receiving free DLC. The Business Update for GTA 5 adds several new toys to players' arsenal.
Clothing stores will be stocked with business apparel such as slacks, suit jackets, blouses and heels. Barber shops will offer new hairstyles to match. If you want to look more street-appropriate, you can get new money-themed tattoos or masks.
Players with a lot of extra cash will want to check out the new vehicles. The Business Update adds three new sports cars: the Albany Alpha, Dinka Jester and Grotti Turismo R. Their prices aren't known yet but I doubt they're cheap. A new plane, the Vestra, gives you a way to quickly traverse Los Santos and Blaine County.
A couple weapons are included in the DLC as well. The Heavy Pistol and Special Carbine both sound like powerful additions to any criminal's collection. Again, no prices weren't announced yet.
GTA Online players can buy the sports cars and airplane through Legendary Motorsport and Elitas, respectively. They can get the weapons at - where else - Ammu-Nation. In GTA 5's campaign, the weapons will be added to the player's inventory automatically along with two clips of ammo. They can get the new vehicles through garage properties.
The Business Update is the second DLC pack for GTA Online in as many months. The Valentine's Day Massacre content, released in February, provided several items inspired by the 1920's. It also introduced 10 Jobs to GTA Online. Rockstar stop offering the Valentine's DLC at the end of February, though. There will be no such restriction on the Business Update content.
"Just to clarify: this content will be available tomorrow, March 4th, in the same way that the Valentine's Massacre content was, except that the items will be available to redeem in the game long-term, not just temporarily," a Rockstar employee said on Rockstar Newswire.
The Valentine's Day DLC was also accompanied by a significant patch, update 1.1. The patch fixed exploits (well, some of them) while reintroducing the Rat Loader pickup truck. The truck and its mods were said to be free until the next update was released. Is that "next update" included with the Business Update? Maybe we'll find out when the DLC officially goes live on Xbox 360 and PS3.
Image 1 of 3
Your Daily Blend of Entertainment News
Staff Writer at CinemaBlend.