GTA 5 Online Heists Launch Marred By Bugs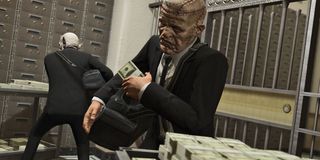 GTA 5 finally received online heists yesterday. Unfortunately, technical issues prevented many players from enjoying this new feature on its launch day.
Rockstar Games confirmed on Tuesday that many players were having problems connecting to GTA 5's online servers. Microsoft, meanwhile, said that Xbox 360 owners were having problems finding matches or signing into Xbox Live:
One frustrated player summed up the situation perfectly with this short video:
This morning, Rockstar updated their support page to say that GTA 5's multiplayer should be back to normal for all users. I logged on right after they posted that bulletin and everything seemed to be working smooth. I was unable to start heist missions at all yesterday but today they're working as intended. The new Adversary Modes included in the update are function now as well. The real test, though, will be later today when the majority of GTA 5 players get home from work or school and log in.
The Heists update also brought an unusual bug for some users. They found that their GTA 5 multiplayer character's appearance or gender had been altered by the patch. Rockstar says that this bug is now resolved. If you want to get your character to be changed back to normal, follow these steps:
Enter GTAV and load into Story Mode
Pause the game
Highlight the "ONLINE" tab
Choose "Choose Character"
Select your affected character
"Once you re-enter GTA Online, your original character appearance will be restored. If you are still experiencing issues with your character's appearance, please submit a request to our team for individual assistance," Rockstar says.
In GTA 5's online heists, four players work together to complete complex missions with big payouts. These missions include robbing a bank and stealing information from a lab. Players can get even more money by completing special challenges during these missions. You can find out more about how heists work and how you can get started by checking out our guide.
The launch problems for heists are unfortunate but they pale in comparison to what players experienced when GTA 5's multiplayer first went live. Many players were unable to log into Rockstar's servers at all. The people lucky enough to get into the multiplayer and finish the tutorial found that their progress kept getting erased. To apologize for these problems, Rockstar gave out free in-game money to everyone.
Your Daily Blend of Entertainment News
Staff Writer at CinemaBlend.