GTA 5: Rockstar Giving Out Free GTA Online Cash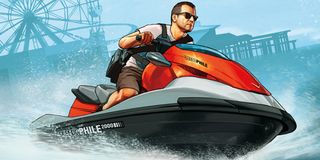 Rockstar Games has decided to give Grand Theft Auto V players a reward for putting up with all the bugs in the game's multiplayer, Grand Theft Auto Online. They've decided to provide players with $500,000 of bonus GTA$ for use in GTA Online.
"In order to keep the current worldwide in-game economy balanced, we will be providing this GTA$ to players via two deposits of $250,000," Rockstar announced this morning. "We will announce specific dates as soon as possible, but are currently hoping to be able to make the first deposit by the end of next week (after we've confirmed that issues causing game progress loss have been fixed) with the second installment to happen by the end of the month."
The first deposit will be released around the same time as title update 1.04. This latest patch aims to fix any remaining problems regarding vehicle purchases not being saved. The patch also will enable Rockstar to make these huge gifts of money to players.
The two $250,000 deposits should appear automatically within your in-game bank account. Other than downloading title update 1.04, you shouldn't have to take any further action to get your free money.
GTA$ allows players to buy new cars, apartments and other equipment for their characters in GTA Online. This cash can be earned by completing various events in the world, such as races or robberies. GTA Online players also have the option of purchasing GTA$ using real-world cash, though they're constrained from being the most exclusive items by their character level. Rockstar temporarily disabled these real money transactions until GTA Online has been stabilized.
GTA Online launched on October 1st. Many players were unable to connect to the servers at all or couldn't get past the tutorial. The bugs with multiplayer also made some players unable to access the single-player campaign. After Rockstar cleaned up those issues with a patch and players were finally able to access the multiplayer's content, they discovered that their progress kept getting wiped out. Another patch released yesterday targeted most of these progression issues.
Rockstar suggested that they might be able to restore some of the lost progress rank. However, today they confimed that it won't be possible.
"For those asking about their lost characters or rank, those will not be able to be restored so we sincerely hope that this cash stimulus we're giving out this month will help you get back on your feet or to make your new life in Los Santos & Blaine extra sweet," the studio said on their newswire.
Staff Writer at CinemaBlend.
Your Daily Blend of Entertainment News
Thank you for signing up to CinemaBlend. You will receive a verification email shortly.
There was a problem. Please refresh the page and try again.