GTA 5 Online: Rockstar Verified Jobs Now Include Air Race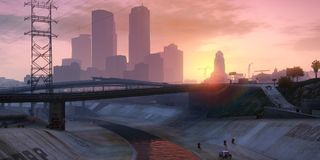 Rockstar Games has crowned another ten player-created GTA Online jobs as "Rockstar Verified." The new batch of Verified Jobs include an Air Race for the first time.
The Air Race in question is called "Final Destination." In this job, players put their stunt flying skills to the test by zipping underneath the bridges of the Los Santos Storm Drain.
"Congrats to TonyResta for creating the first ever Air Race to be Rockstar Verified," the developer said on Rockstar Newswire. "It is certainly no easy task to make an Air Race that is challenging but not impossible, or one that uses the skyscape of Los Santos in such a dynamic and interesting way."
Therealxstacide paid tribute to 1992 basketball flick White Men Can't Jump with his land race "White Cars Can't Jump." Like previous Verified Job "Jumps Jumps Jumps", this race is composed of a series of evenly spaced jumps. Players will soar along the Great Ocean Highway while trying to avoid train carriages.
Like the last group of Verified Jobs, today's bunch only includes two Team Deathmatches. "Little Seoul Park" lets players wreak havoc on each other with explosives in a skate park. "Area 53" is set in a Hippie Camp outside of Sandy Shores. Rockstar recommends that you use small teams for both of these jobs.
When a Job is marked Rockstar Verified, they become available on both Xbox 360 and PS3. Rockstar reserves the right to change names due to copyright issues or explicit content. Occasionally they tweak some gameplay aspects of the Jobs as well such as the spawn points or pick-ups.
Rockstar updated GTA 5's Content Creator last week to allow players to create missions for Capture mode, the game's capture-the-flag equivalent. However, today's Verified Jobs only feature races and deathmatches. Rockstar said on Twitter that they'll be announcing the best Capture Jobs in a few days.
Rockstar plans to give away four #CaptureWeekend Awards for the best Capture Jobs created by players. The winners will receive a CAPTURE license plate for their in-game vehicles along with $1,000,000 in GTA$.
Maybe next week they'll also share details on the upcoming High Life DLC. High Life, a free update to the game, will add several high-end items to the game like the Bullpup Rifle and Dinka Thrust motorcycle. Players will be able to buy new luxury apartments as well and own multiple properties for the first time.
Your Daily Blend of Entertainment News
Staff Writer at CinemaBlend.