GTA 5 Optimizations Found In AMD Catalyst Drivers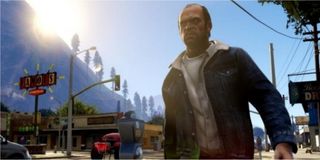 By now, it shouldn't even be a question as to whether or not Grand Theft Auto V is coming to PC. For those intent on believing it's a swan song for current gen and an exclusive to the crappy old Xbox 360 and PS3, you might want to pretend to start cutting onions, because there's some salt-inducing news regarding GTA V arriving on PC.
DSO Gaming [via Blues] spotted a find on the Guru3D forum by user kn00tch, who implores anyone with the latest AMD Catalyst drivers to hex edit the blb and search for a specific address to find the optimization hook for GTA V.
DSO does make the astute observation that Halo 3 (which also appeared in Steam's database app) was also included in the AMD Catalyst drivers at one point, but the game is still a no-show for the PC Master Race. Although, perhaps, one could hold out hope the way the Gabenites hold out hope for Half-Life 3.
This latest bit of info, however, should not be dismissed just because Microsoft wanted to e-cock tease PC gamers with Halo 3. We already have ample evidence from the actual game disc files from the Xbox 360 and PS3 showcasing obvious configuration settings and file structures for the PC version of GTA V, including DirectX 11 references, which aren't even available for the old and decrepit seventh generation consoles. That's not to mention that GTA V on the wheelchair-bound current-gen consoles can't even maintain 30fps without pop-in and loading issues.
There's also still hope that perhaps the configuration settings we scoured through from the Xbox 360 rendition of GTA V hinting at 32-players in GTA Online is perhaps reserved for the PC version of the game, just like how GTA IV on PC also supported up to 32-players while the Xbox 360 and PS3 versions of the game were limited to 16-players.
Many gamers suspect that Rockstar won't officially announce the next-gen rendition of GTA V until they've well and cleaned up every dime and dollar from your wallet for the crappy version of the game that's currently burning up the sales charts on the NPD reports.
With Nvidia and Sony already having previous leaked tidbits about GTA V on PC and PS4, it's just a matter of struggling to maintain patience while we wait for Rockstar to officially announce the game for the real gaming platforms.
Staff Writer at CinemaBlend.
Your Daily Blend of Entertainment News
Thank you for signing up to CinemaBlend. You will receive a verification email shortly.
There was a problem. Please refresh the page and try again.