GTA IV: The Lost And The Damned DLC Premier Trailer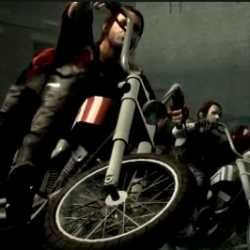 The first-ever trailer of The Lost and the Damned, the upcoming downloadable content for the Xbox 360 version of Grand Theft Auto IV, was unveiled last night. As you'd expect from a GTA IV expansion about a biker gang, Lost looks exactly like GTA IV except with a biker gang.
Lost and the Damned puts players in control of Johnny Klebitz, a member of the biker gang The Lost. The trailer introduces the important members of the gang. There's also a brief glimpse of a new shotgun with a big ammo drum at 0:47 - one would imagine you'll get your hands on that puppy at some point.
Lost will be available on February 17th exclusively for the Xbox 360 version and will cost $20.
Staff Writer at CinemaBlend.
Your Daily Blend of Entertainment News
Thank you for signing up to CinemaBlend. You will receive a verification email shortly.
There was a problem. Please refresh the page and try again.