GTA V Requires 8GB Install, No Difference Between PS3 And Xbox 360 Versions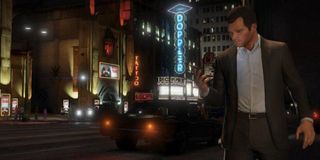 If you plan on playing Grand Theft Auto V this fall, you'd better start clearing some hard drive space. Rockstar Games says that you'll need to install 8GB of data to your console to play the open-world crime game.
The Xbox 360 version will ship on two discs. The first will be used for the one-time installation. You'll use the second disc while actually playing the game. You won't need to swap discs during gameplay.
"This initial install will require an Xbox 360 Hard Drive or an external 16GB USB flash drive with at least 8 GB of free space," said Rockstar in a new FAQ. "If using a USB flash drive it must be at least USB 2.0 with a minimum 15mb/s read speed and formatted for Xbox 360 use. A new USB flash drive is recommended to ensure optimum performance. For PlayStation 3, the game ships on one disc and will install content as soon as you insert the game. The install is roughly 8GB, and players will be able to play as soon as the install is complete."
Rockstar says that both the PS3 and Xbox 360 versions were developed simultaneously and will be the same. Visual differences will be "completely negligible."
The game has only been announced for PS3 and Xbox 360 so far, in spite of evidence of a PC version. The studio declined to comment on PC or next-gen console rumors at this time.
"We are completely focused on delivering the best possible experience for the consoles people have right now."
In GTA V, players will step into the shoes of Los Santos criminals Michael, Franklin and Trevor. Each has their own missions and side jobs, though they'll occasionally team up with each other as well. Players will be able to freely switch between these characters as long as they're not in the middle of a mission. There will be some switching during the two-character or three-character missions as well.
When you're playing as one character, the other two characters will be going about their everyday lives. You can actually find them and spend time with them. Rockstar says you won't be able to kill them, though.
"They all have remarkable powers of recovery and good health insurance. The game is based on playing all sides of these three characters' interwoven stories rather than having generic, interchangeable leads, so permanently killing a major character in that way wouldn't make sense. If a player is determined enough though, they may well find a way to badly injure one of the characters and switching to that character would just put you in the hospital to continue where you left off."
There are only two months to go until GTA V's launch date so expect a lot more information to be revealed soon. Today Rockstar promised details on weapon and car customization as well as the multiplayer mode Grand Theft Auto Online. The first official gameplay video is said to be "on its way" as well.
Staff Writer at CinemaBlend.
Your Daily Blend of Entertainment News
Thank you for signing up to CinemaBlend. You will receive a verification email shortly.
There was a problem. Please refresh the page and try again.